Explore West Ridge
There is plenty to do in and around West Ridge. Plan your next visit with the following helpful information. We look forward to seeing you.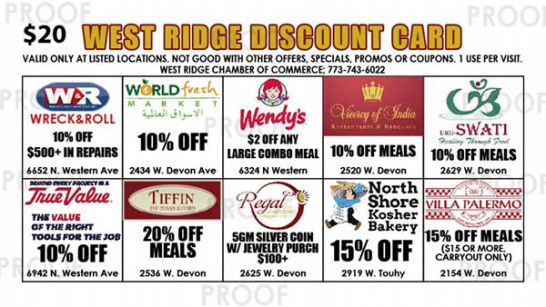 Dine

While known primarily for its concentration of outstanding Indian and Pakistani restaurants, a wide variety of other cuisines are also represented. We invite you to embark on a culinary adventure that can take you around the world - an appetizer in Thailand, an entrée in Russia and desert in India. Or finish with a slice of baklava from the Middle East. Just think what you will save on airfare. And while you're here, you'll want to explore the unique variety of merchandise in the ethnic shops and groceries.
Explore Restaurants »
Shop

West Ridge is well known for its many colorful
fashion stores
and local
artisans
. But you can also grab a book from a local
bookstore
while indulging in a hand-made pastry from one of several
bakeries
. Or maybe you prefer pampering yourself at a
salon
before your night out on the town. Whatever your interest, West Ridge is sure to have what you need.
Explore

Whether your idea of a fun night out includes catching a
performance
at a local
bar or lounge
, or curly up with a book from the
library
, West Ridge has plenty to do.