The Best Way To Support Entrepreneurship in Chicago
The Entrepreneurship scene in Chicago is like a teenager in high school. It has a lot of potential but still needs support and guidance to grow.
Chicago Startup Week brings together the brightest minds in the city to discuss business and entrepreneurship. Chicago Startup Week hosted a workshop on November 6 titled "Ending "The Tale of Two Cities"-Entrepreneurship on Chicago's South and West Side."
The workshop featured President and CEO of Future Founders Scott Issan, Founder, and CEO of Hurry Home Jada McLean, CEO of CodeNow Neal Sales-Griffen and South Shore Chamber of Commerce Executive Director Tonya Trice as speakers.
Even though they come from different backgrounds and sectors, everyone agreed on what the best way to support Chicago's Entrepreneurs is: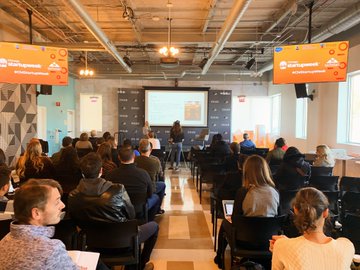 Reinvest in your community
This simple, yet powerful move to support entrepreneurs can be done in several ways.
3) Buy from a startup
Future Founders is committed to helping entrepreneurs get their feet off the ground and start businesses. Issan cited buying from a startup as an excellent way of reinvesting. Millions of dollars are spent on amazon and large chain retailers during the holiday season. Just a fraction of that money can mean the world to a small startup, that makes the exact same product for a better price.
2) Supporting fellow entrepreneurs
Much like Rome, Chicago's entrepreneurial scene wasn't built in a day. 15 years ago, it didn't even exist. This community grew because people supported each other. They taught each other how to grow their business, what to avoid and what to do. Giving back like this to another entrepreneur can help them greatly. Neal Sales-Griffen, Scott Issan and Jada McLean are great examples of Entrepreneurs giving back. Issan through Future Founders and Sales-Griffen through CodeNow. McLean and her company Hurry Home help in a different way. At Hurry Home, they work to support first-time homeowners and those looking to become homeowners.
1) Buying local
It sounds obvious but buying local is the very best way to reinvest in your community. Instead of going to target or a large chain grocery store to get food and beverages, try going to a small family convenience store down the street. Executive Director of the South Shore Chamber of Commerce Tonya Trice highlighted that 200 million dollars leave the South Shore community every year because people buy food and drinks somewhere else. The corner store down the street may seem small compared to Whole Foods, but it often is run by community members and people who live around you.
You may not be CEO of a company or a tech industry leader, but using these simple steps anybody can help make the future of entrepreneurship in the city brighter.
Nov 19, 2019
by